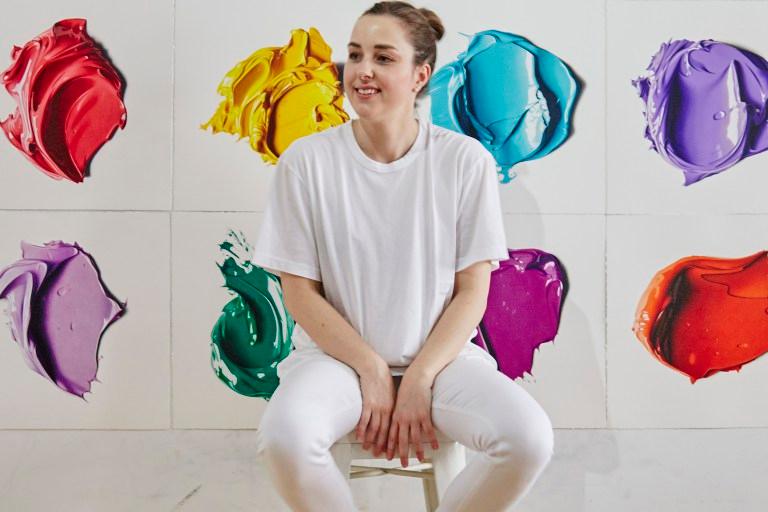 Australian Artist CJ Hendry Collaborates With Louboutin For Hong Kong Art Basel
By Ebony Allison

Apr. 24 2017, Published 12:06 a.m. ET
New York based Australian artist CJ Hendry has collaborated with Christian Louboutin for her Complementary Colors exhibit that was shown in Hong Kong Art Basel from March 21-23. The collaboration is an unusual one – since Louboutin's extravagant colorful flair contrasts with Hendry's monochromatic style.
The hyperrealistic artist is best known for her iconic monochromatic pen drawings of both luxury and popular culture consumer products. But for this exhibit, Hendry took a step away from her black and white style to take up a challenge. Since the messiness of paint affects her OCD, Hendry picked up 15 different shades of colored wax pencils to create the vividly realistic paint-looking blobs of her art piece. "This is the first time I've ever used color in my practice," says the artist. "It's both invigorating and challenging."

Article continues below advertisement
Her Complimentary Colors exhibition showed at the Anita Chan Lai-Ling Gallery's Fringe Club in Hong Kong and featured a rainbow-like spectrum of colorful paint blobs. The work of art recreates the fiercely signature shade of Christian Louboutin red. The exhibit also includes an interactive element as well: viewers will have an opportunity to create their own works of art on the gallery's blank white walls using molds of the Louboutin "So Kate" heel made of crayon wax.
Article continues below advertisement
"Collaborating with Christian Louboutin is something I am very proud of," says Hendry. "Both as a brand and as a person; he is a force whose work I've admired for many years. Beyond that, being given the freedom to work with a conceptual subject matter, in partnership with a consumer brand, is innovative and exciting."
In a press release, Louboutin also expresses his excitement of working with Hendry:
"There is something I love in her work that is very playful and you can feel the artisanship," Louboutin said. "Some artists now are quite industrial in their approach but in her work you almost find a patina, a handcraftsmanship in the way she uses colors. But it's more our complete differences, which make it interesting – to have a point of view that is not like yours is nice. It is engaging and enriching."