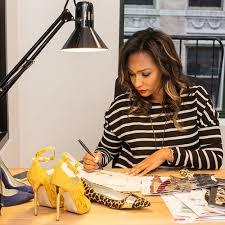 Why Aren't there More Black Fashion Designers?
By Kaylin Young

Aug. 23 2017, Published 6:03 p.m. ET
The past few years, fashion has begun to widen its diversity lenses, stretching their model search from size 2 to 14 and accepting more models of color; one area that has not changed is the lack of black fashion designers represented on main stages. Only one percent of designers sold in department stores and major e-commerce sites are people of color. Out of 260 men's and womenswear shows presented during New York Fashion Week, only seven are by black designers. Considering the fact that most fashion trends are inspired by black culture, it's surprising that African-Americans aren't the ones sketching the designs.
This black absence has been speculated for years, but the gap still remains. It is not due to lack of black shopping desire; Nielsen estimated that African-American buying power will reach $1.3 trillion by the end of 2017. Carly Cushnie, the Afro-Caribbean half of Cushnie et Ochs (one of the seven at NYFW) attributes the lack of representation to network. "At the end of the day, it comes down to connections and relationships, especially when you are starting out," she said.

Designers, editors, and retailers agree that there is a lack of diversity on every level of public fashion: from the buying floor to the newsroom to the merchandising closet to the home of most Americans. Fashion designers need fashion publications for positive promotion… fashion buyers need fashion manufacturers for mass production… fashion consumers need fashion stores to stock fashion designers that they see in fashion publications. The cycle is continuous and affects all fashion-conscious participants.
But what if there simply aren't enough black designers? According to the National Association of Schools of Art and Design, at most major fashion schools, non-Hispanic blacks make up between 4-9% of enrolled students. Shayne Oliver, designer of Hood by Air, believes the disconnect stems from the cultural mentality. "Making clothes is not seen as a man's job in black culture," Oliver said.
Clearly, it will take a shift on all levels to put more black designers on the runway. Hopefully sooner than later.