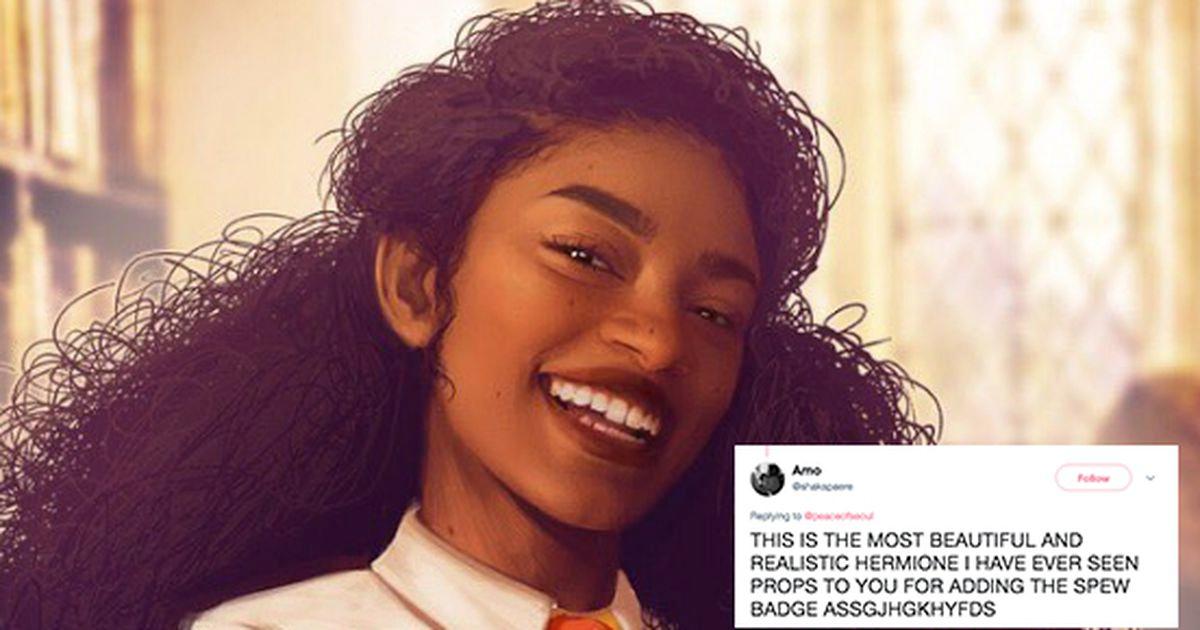 Are People Really Upset About A Black Hermione
By Chelsea Crandall

Aug. 15 2018, Published 4:58 p.m. ET
Are we all familiar with Harry Potter? The multi billion dollar franchise started by the beautiful JK Rowling? Even if you are not a fan of the books or the movies, chances are you know of it. The book has three main characters. The title character, Harry Potter and his two best friends Hermione Granger and Ron Weasley.
Hermione is known for a lot of things including her book smarts. She is often referred to as the brightest witch of her year. Hermione is also seen saving Harry and Ron about 95% of the time because of her extensive knowledge in spells.
Hermione is also known for her bushy hair but one thing that is never mentioned is the character's race. Naturally people just assumed that she was white with frizzy hair. The depiction of her in the movies, where she is played flawlessly by Emma Watson, supports that assumption. Recently Hermione's race came into question when artist, Sophia Canning, drew her and posted the picture on Twitter.
Article continues below advertisement
First off, yes that is a painting not a photograph. Many people were astounded by the fact that she painted this in 3-4 hours and then proceeded to call it "quick." The artist explained that she typically doesn't do her artwork that quickly. "I usually spend a full day on a piece, but this one was only 3-4 hours because I was just doing it for fun. That might be a long time for some people but for me thats very fast, I wasn't trying to brush off my skill or time!" There is no doubt that this depiction of Hermione is amazing. But, the beauty of this drawing was overshadowed by the fact that this Hermione is black.
This is not the first time that Canning drew Hermione as an African American. She drew a similar depiction in 2016. The post recently acquired several racist comments about the fact that she is not white. Controversy has been swirling around the witch's race for quite sometime now. Especially given the fact that the 8th installment "Harry Potter and the Cursed Child" has been turned into a Broadway play and the actress cast to play Hermione is black.
Article continues below advertisement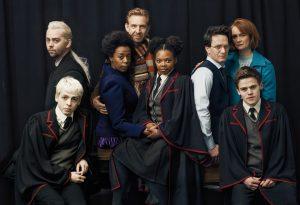 Canning decided not to stoop down to the level of the racist commenters. "I decided that, instead of arguing with them, I would draw her again but happier and with bigger hair." She made the right call being that the response to the picture was overwhelmingly positive.
Article continues below advertisement
Article continues below advertisement
Of course there were a couple of comments that addressed the fact that Hermione was indeed white in the films and possibly in the books.
Article continues below advertisement
Article continues below advertisement
However JK Rowling herself explained that she really liked this version of Hermione.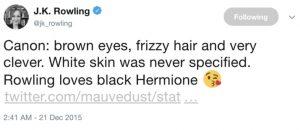 She got the queen's approval so what else matters? This depiction of Hermione is exactly what the Wizarding World needed. As much as I love Harry Potter there is a slight lack of representation in the movies. Kudos to both JK Rowling, for helping to cast a black Hermione and Sophia Canning for taking this step toward diversity and inclusivity in this magical fandom.