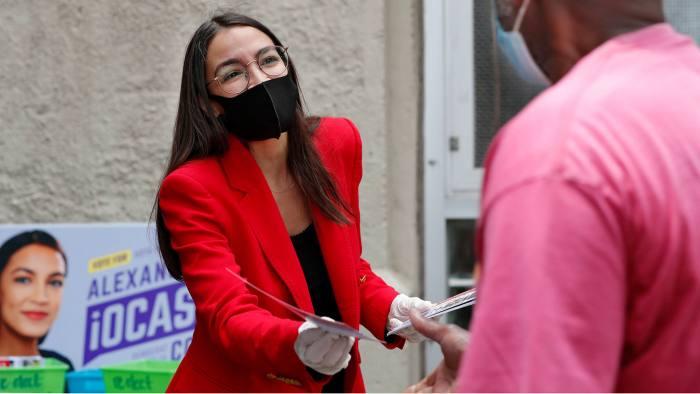 AOC Wins Democratic Primary
By Elysia J

Jun. 24 2020, Updated 11:25 p.m. ET
Alexandria Ocasio-Cortez ("AOC") has once again won the Democratic primary for New York's 14th Congressional District.
The final numbers from Tuesdays election will take a few days to fully count. This is due to a large number of absentee votes that were cast in this race. However, AOC's victory is clear. Based on current numbers, she won 73 percent of the vote.
Her biggest challenge came from Michelle Caruso-Cabrera. She is a former CNBC correspondent and, notably, a former Republican. In 2010 she wrote a book calling for fiscal conservatism and positioning herself as a pro-business centrist.
These positions helped her attract significant campaign contributions from Wall Street. Much like in the 2018 primary against Joe Crowley, the electorate passed over the close ties to Wall Street and favored a progressive for the people.
The Republican primary candidate, John Cummings ran uncontested. However the 14th district is a strong blue seat, leading many to see the win as a guaranteed second term for the popular congresswoman.
AOC Celebrated the win on Twitter.
She noted specifically that she won despite Wall Street pouring money into the opposing campaigns. Despite not taking money from Wall Street, the Ocasio-Cortez campaign was able to raise $10.5million in donations which was significantly more than the opposing campaigns were able to raise.
Article continues below advertisement
AOC ran her campaign with the movement and community in mind. Much of her canvassing took the form of delivering meals, masks, and supplies to residents of the district. The messaging revolved around three crisis's facing the community: COVID-19, mass unemployment, and racism in the justice system.
The massive win in the election shows that these are the issues that resonate with New Yorkers. The taste for centrism and business-first politics was already shown to be waning thin in 2018. But two years later, after a poorly handled global pandemic, and mass Black Lives Matter uprising, it seems that the time for moderates is well and truly passing.