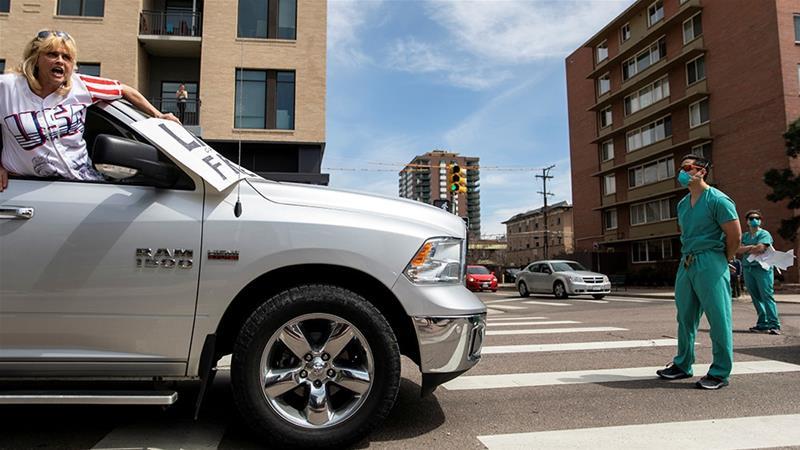 Anti-Lockdown Protests Spread Across US
By Elysia J

Apr. 23 2020, Updated 8:19 p.m. ET
Anti-lockdown protests have been taking place across the United States in response to restrictions to stop the spread of coronavirus.
Michigan
Ohio
North Carolina
Minnesota
Utah
Virginia
Kentucky
Wisconsin
Oregon
Maryland
Idaho
Texas
Arizona
Colorado
Montana
Washington
New Hampshire
Pennsylvania
The smallest of the demonstrations included around a dozen people. However, thousands gathered in Michigan and Washington. All of them unnecessarily increased the risk of spreading the illness.
Perhaps the most infamous of all of the demonstrations took place in Denver, Colorado. Hundreds of healthcare workers turned up to peacefully counter those demanding that the state re-opens. The interaction between one of the protesters and a counter-protesting nurse has since gone viral. The demonstrator hurls abuse at the nurse, who stands in front of the car in silence.
Article continues below advertisement
There are currently over 800,000 confirmed cases of coronavirus in the United States. Over 40,000 have died of the virus. But for this vocal minority, these figures are unimportant. Or at least slightly less important than their leisure time.
Article continues below advertisement
The Vast Majority of Anti-Lockdown Protestors are Conservatives.
There are many Trump Supporters, pro-gun activists, and Alex Jones fans amongst their ranks. The rhetoric coming from the protesters is quintessential American individualism. They argue that their "liberty" is more important than not killing people. Some say that those who want to stay home should, but those who don't should be allowed out. This proposal would defeat the purpose of a quarantine. But liberty.
Of course, some have genuine concerns about being able to pay bills whilst their work is closed. However, a common theme amongst protesters is the demand for leisure. There have been a string of signs from protesters wanting hair cuts. Others have called for restaurants and bars to re-open. Some are even demanding to be allowed to golf. What is striking is that these signs indicate that many are not anti-lockdown so that they can go back to work. But are instead anti-lockdown so that others can be forced to go back into work to serve them. At the risk of their lives.
Of course, the vast majority of Americans are following the guidelines. But they are the ones who are likely to face the consequences of the protestors. The more the virus spreads, the longer people will need tp stay in quarantine to protect both the public and the healthcare system.