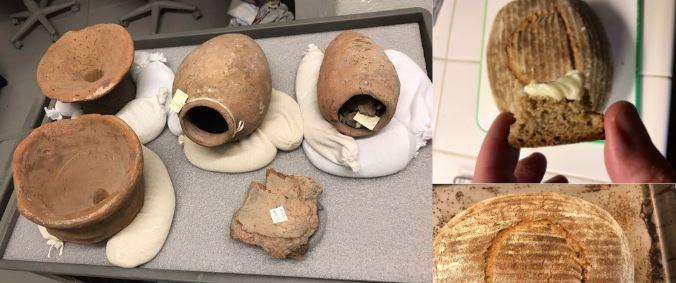 A "Bread Nerd" Baked with Ancient Egyptian Yeast?!
By Jamie Rollo

Aug. 7 2019, Published 3:19 p.m. ET
Video game designer Seamus Blackley has baked bread using 4,500 year old yeast from ancient Egyptian pottery, and his project was trending on Twitter. Sounds extremely gross, but interesting nonetheless.
Words by Kai Collado-Vazquez
Working with microbiologist Richard Bowman and Egyptologist Dr. Serena Love, Blackley collected yeast from ancient Egyptian pottery and tried to make bread with it. Blackley wrote on Twitter, "using a nondestructive process and careful sterile technique, we believe we can actually capture dormant yeasts and bacteria from inside the ceramic pores of ancient pots. We sampled beer – and bread – making objects which had actually been in regular use in the Old Kingdom."
Article continues below advertisement
To make this bread, he used samples from pottery ancient Egyptians regularly used to make bread and beer. Blackley sent samples to Bowman to analyze and see if the microorganisms are contaminated or extinct bacteria. The samples the scientist used to make his bread "surely contain contaminants," but he says they likely contain ancient yeast.
The scientist uses ancient grains Einkorn and Kamut, which were used before wheat, along with water and olive oil to make bread using the ingredients ancient Egyptians would. The dough was made with the ancient samples and Blakely even carved the hieroglyphic that represents bread into the loaf. The only difference in his bread and the bread of the ancient Egyptians is the way he baked it. He uses an oven, which obviously they did not have yet. He does eat the bread though, and says it is unlike anything he's ever experienced.
Article continues below advertisement
"The aroma is AMAZING and NEW. It's much sweeter and more rich than the sourdough we are used to," Blakely Tweeted. He continued, "The crumb is light and airy, especially for a 100% ancient grain loaf. The aroma and flavor are incredible. I'm emotional. It's really different, and you can easily tell even if you're not a bread nerd."
He says this loaf was just for practice, hinting that he might try to make more bread once the samples are tested. Would you eat it?