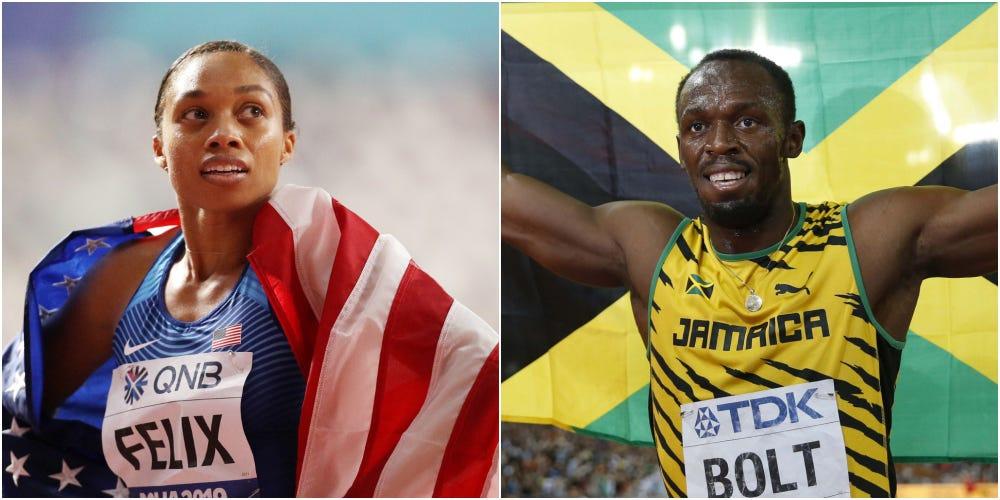 Allyson Felix Sprints Pass Usain Bolt's With New World Record
By Patrice Gillespie

Oct. 4 2019, Published 8:32 p.m. ET
Allyson Felix won her twelfth gold medal after competing with Team USA in the IAAF World Championships this week. Felix, and the rest of Team USA,Courtney Okolo, Wil London, and Michael Cherry dominated the 4×400 relay race. Now, this isn't just any ordinary win for the California born athlete. Previously, Jamaica's very own Usain Bolt held the record of most world championship gold metals; having won 11 since 2013. However, Allyson Felix is now the first athlete ever, yes male or female, to win a grand total of 12 world championship medals. Felix took to instagram Tuesday to express her gratitude:
According to CBS sports, in addition to her 12 gold championship medals, Felix has a total of 25 medals. This includes her 2009, 2012, and 2016 Olympic games medals. What makes this accomplishment more fulfilling is that, her new title comes only 10 months after giving birth to her daughter Camryn. Now that's what we call Black Girl Magic!
Article continues below advertisement
When discussing the stigma against pregnant athletes, Felix wrote in her New York Times piece, "I wanted to be a professional athlete and a mother. In some ways, that dream was crazy. I decided to start a family in 2018 knowing that pregnancy can be 'the kiss of death' in my industry." This was a direct dig at the mega sports brand Nike, who sponsored Felix from 2000 up until 2017. She expressed in her times piece how terrified she was when she got pregnant in 2018 because she was still in negotiation with the brand. In the end, Nike allegedly tried to pay Felix 70% less. After Felix and other female athletes spoke out about the mistreatment of pregnant athletes, Nike and other sports brands have said they would take the necessary steps to fairer treatment of their sponsored athletes who have children.
Felix's win is more than just another medal added to her brewing collection. Her twelfth gold medal is proof that women of all careers can be great mothers to their children, all while dominating their fields in the workplace. Congratulations again to Allyson Felix! We can't wait to see what you bring to the field at the 2020 Olympics.