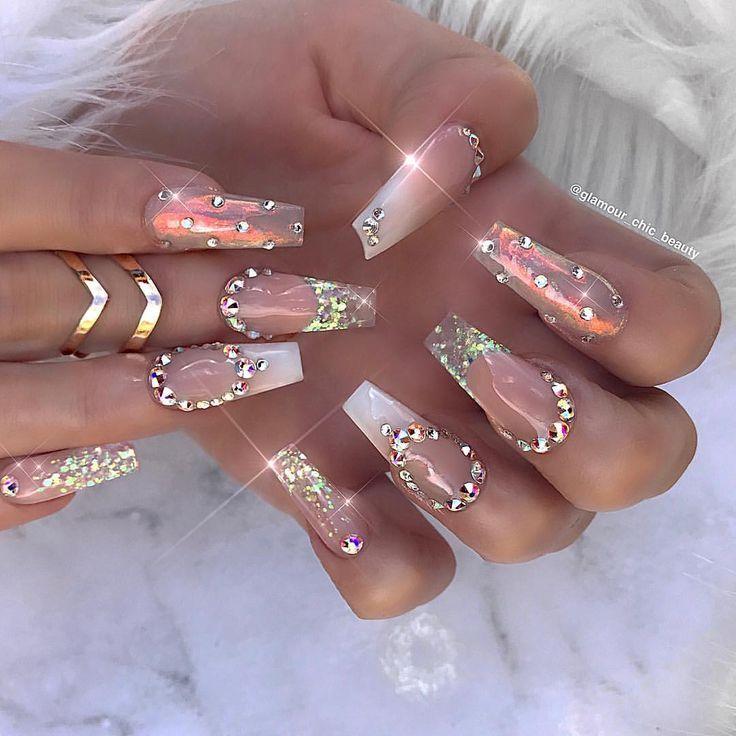 '90s Bedazzled Nails Are Making A Comeback!
By Adama

Dec. 11 2018, Updated 3:47 p.m. ET
If you were around during the '90s, then you were around for this time period's trendiest pop culture trends. You can thank the '90s for the initial appearances of bucket hats, tube tops, oversized plaid flannels, fanny packs, bleached hair, and windbreakers, just to name a few. I'm pretty sure you've rocked at least one of these trends, if not more. Since the '90s, all of these trends have made their reappearance someway, somehow, into our 21st century trends. Aside from these remarkable '90s fads, '90s nail art hasn't received the recognition it needs! It appears as though the best trends always seem to come back and the '90s bedazzled nails is finally making the comeback it deserves.
Bedazzled nails can really elevate the most minimal and simplest manicure, making it a statement piece and a eye-catching attraction. From rhinestones and sequins to glitter and beads, bedazzling adds creativity and character to that basic manicure you get every two weeks. Whether you're at home and want to have your own D.I.Y nail day or decide to stop by your local nail salon, make sure your next nail look has some sort of bedazzling on them.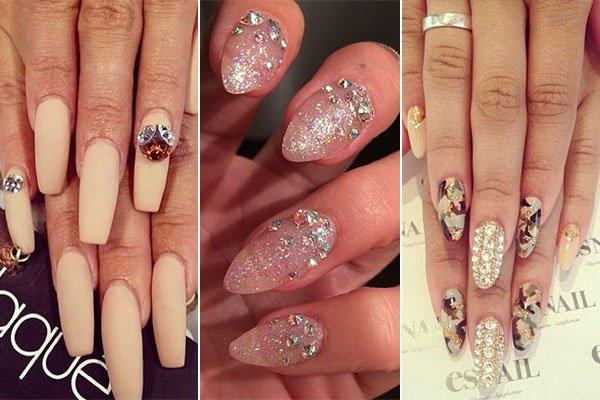 Article continues below advertisement
Don't know what bedazzled look to go for? Here's some cool and chic inspiration for your next nail appointment!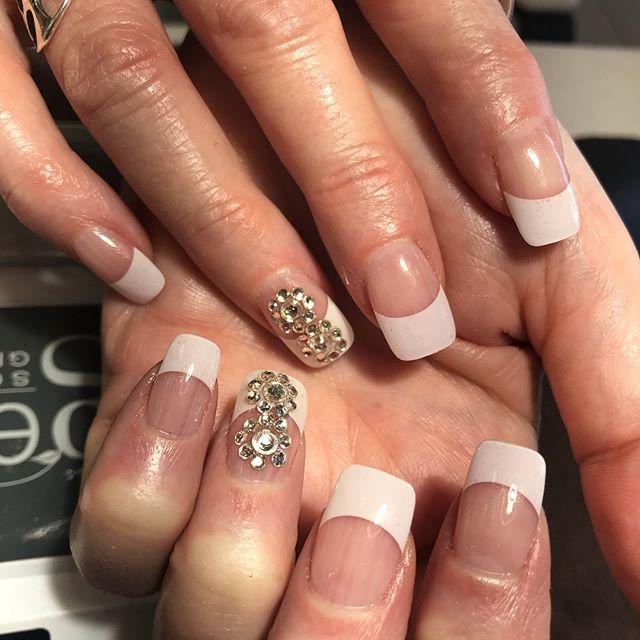 Article continues below advertisement
This classic short French manicure, with a subtle touch of golden rhinestones to one finger on each hand, makes this would've been overly simple mani, just simple and classy. If you're not the over-bedazzling type of girl and still want to incorporate your fresh and minimal aesthetic, this nail look would be perfect for you.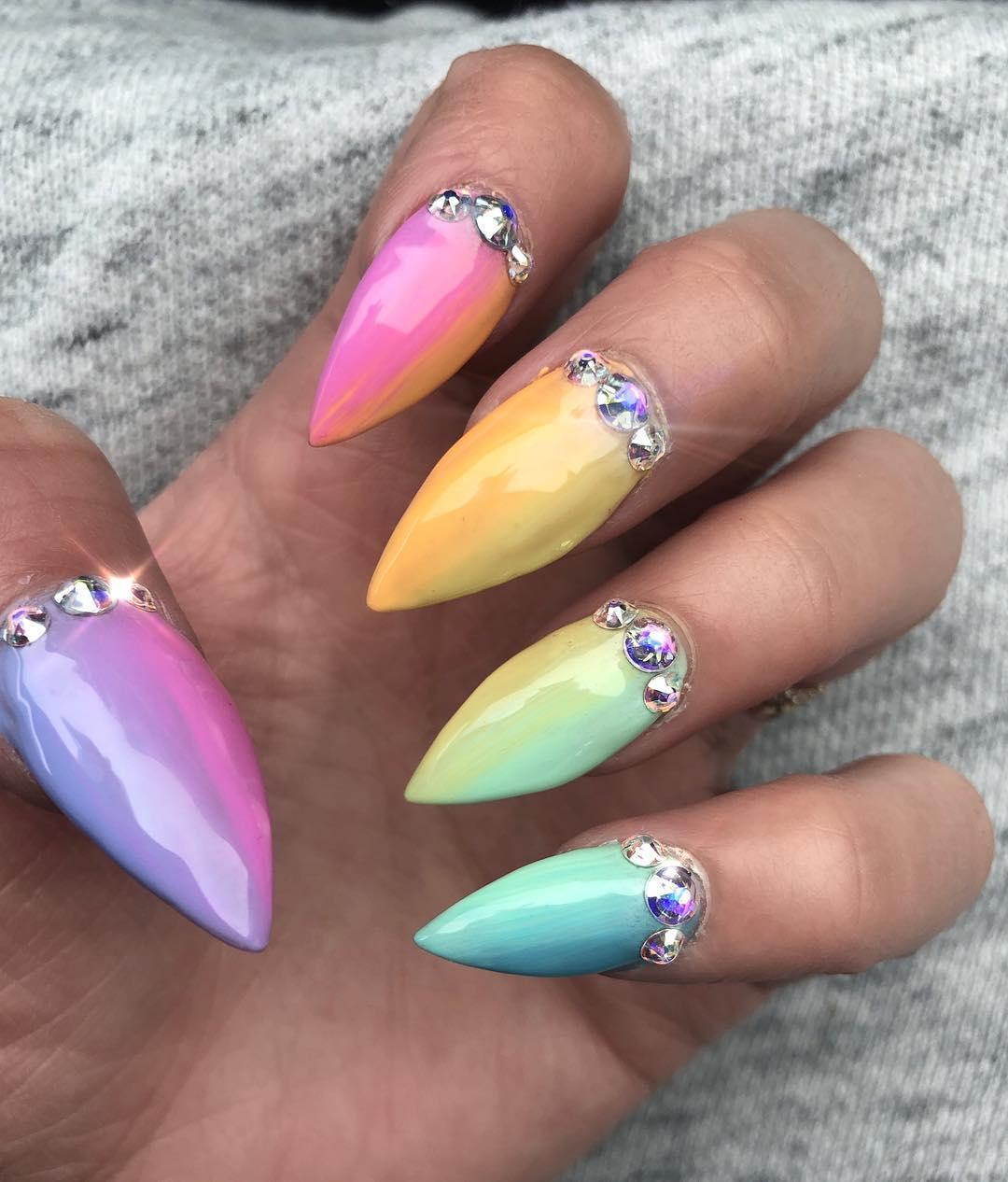 Article continues below advertisement
If you're the kind of girl that can never decide on what nail polish color to choose at the nail salon, no worries, this look incorporates all the colors you need. These cute rainbow stiletto shaped nails with three rhinestones at the cuticle of each finger. It will add just enough bedazzling POW without adding too much POW.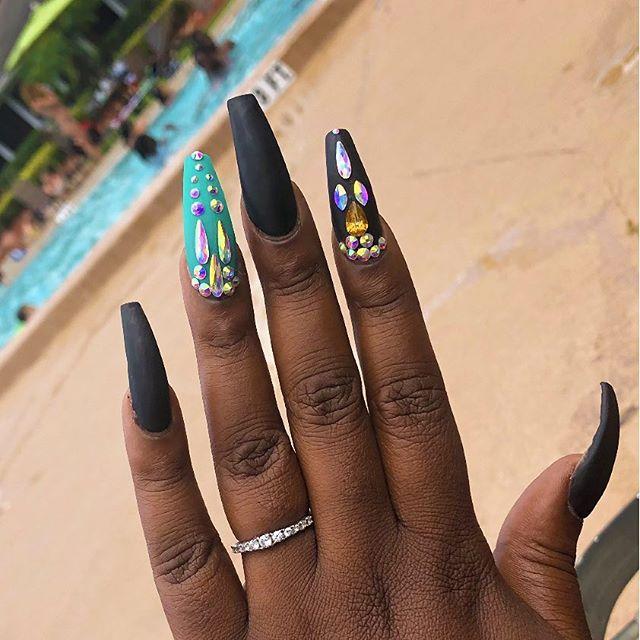 Are you planning on being laid up on the beaches of Cancun, the Bahamas, Bora Bora, or maybe Cuba? These bomb ass nails are the perfect vibe for a beach vacay. These long coffin shaped nails, with matte black and teal nail polish and of course multi-colored jewels, are super trendy and sure to give your vacay wardrobe a pop. Even if you're not going to any of these places, you can still rock these nails anywhere and everywhere.