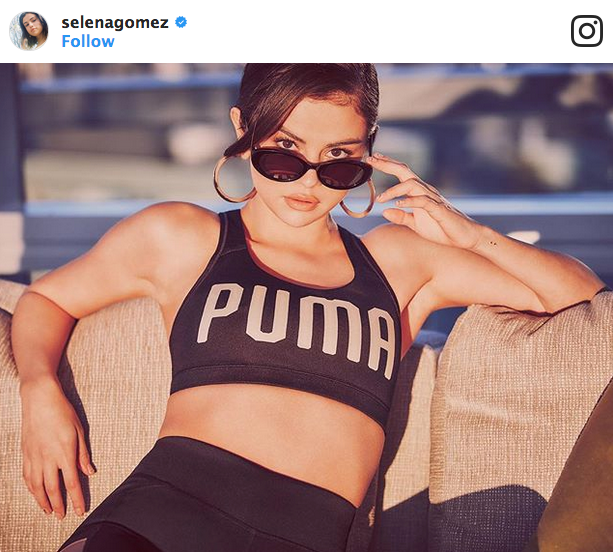 Selena Joins Puma
By Liyana

Sep. 19 2017, Updated 6:43 p.m. ET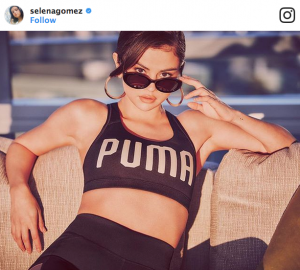 If you follow the songstress/actress who has a 127 million following base on Instagram you would know by now that Ms. Gomez has officially announced her collaboration with sportswear line Puma on Monday. She poses in a her latest Instagram post in a Puma sports bra, black oval sunglasses, gold hoop earrings and a smoldering smize to match as she captioned the image with "Officially a part of the fam @puma #pumapartner". The "Fetish" singer is now joining Puma's A-list celebrity line-up which includes Rihanna, Kylie Jenner, Cara Delevingne and also the songstress' boyfriend, the Weekend. She will currently be appearing in the brand's Phenom women's footwear campaign…and it doesn't stop there! She will also be collaborating in their future designs.
"Being part of the Puma family is very exciting for me" Gomez said in a recent official statement. "Puma has changed the game when it comes to the mash-up of athletic wear and fashion. It's amazing to see this influence on style and culture and I'm excited to be a part of it. I am hoping that we can create something special together. We already have some really cool projects in the works" she continued. Adam Petrick the global director for brand and marketing for Puma adds "She is everything that today's female consumer is looking for in a role model… With her honesty and openness about living with lupus, she has provided an incredible example of confidence, poise and determination for all of us. Selena is a perfect partner for Puma because she is not afraid of the challenges our world can offer; she fights and perseveres, which is exactly what Puma is all about."
She has been on a roll lately as this will be Ms.Gomez's second collaboration this year. Her first was with high-end American brand Coach where they released a line of accessories together which include handbags, ID cases and wristlets that all come in red, cream and black.
We are excited for her and can't wait to see what else she will succeed in!