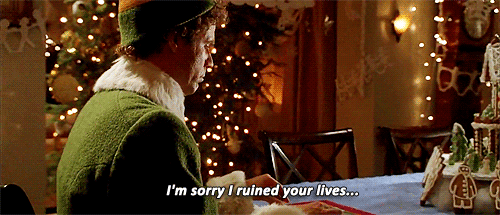 3 Reasons Why I'm Not Buying Gifts
By Johana L

Dec. 20 2018, Published 9:03 p.m. ET
I hope it's not scandalous to tell people that there will be no gifts from me. Just kidding. I don't care. Kidding. I do care. Let me explain. Here's my 3 reasons why it's just not happening this year.
Capitalism and Materialism.
Now that I'm broke, a rent paying adult and irresponsible, it's the perfect opportunity to take a stance against capitalism and materialism. Who needs all that stuff? Am I right? It's sickening if you really think about how money rules the world and I don't have enough of it. I mean, what the hell. Not getting people gifts is a lesson for us all to care about each other instead of things. Stop thinking about all the things you can't have and start thinking about all the things you shouldn't have bought.
Our energy can go to more important things. Do you really want to go through various websites, clicking that Honey icon for the best coupons, putting in your card number, the security number in the back, your address, and waiting for the package. I'm not trying to answer my door for someone else's pleasure. Thanks for the box that I'll be wrapping as gifts for someone else's enjoyment. Lame. Who wants to see the stupid smiles on your loved ones faces when they find out you got them exactly what they wanted. Emotional exhaustion. SMH.
So basically, no one is getting gifts from me this year because I'm an adult now and wow this stuff costs money.