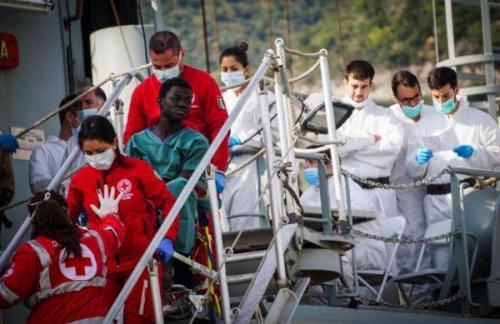 26 Nigerian Teens Found in Mediterranean Sea
By Kaylin Young

Nov. 10 2017, Published 9:32 p.m. ET
The bodies of 26 Nigerian girls were found in the Mediterranean Sea this week. Two men, suspected of human smuggling, were arrested in Italy after the girls were found.
Females between the ages of 14 to 18 were recovered by an anti-trafficking rescue boat called the Cantabria on Sunday. It is still unclear how the teenagers died, but it is suspected that they may have been murdered along the dangerous smuggling route between Libya and Europe. Although the number of survivors is currently unknown, the recovered bodies were brought to the shore in Salerno, Southern Italy.
The suspected smugglers have been identified as Al Marbrouc Wisam Harar from Libya and Mogamed Ali Al Bouzid from Egypt. The men have been accused of trafficking at least 150 people, but officials have not been able to prosecute or link them to the deaths of those who have been trafficked.
Deaths along the migrant sea route to Europe are common, but authorities are still confused as to why all victims were teenage women. Whether or not the girls had been tortured or sexually abused is also unknown at this time.
According to the International Organization for Migration, over 150,000 migrants and refugees have survived the journey over the Mediterranean Sea to Europe.