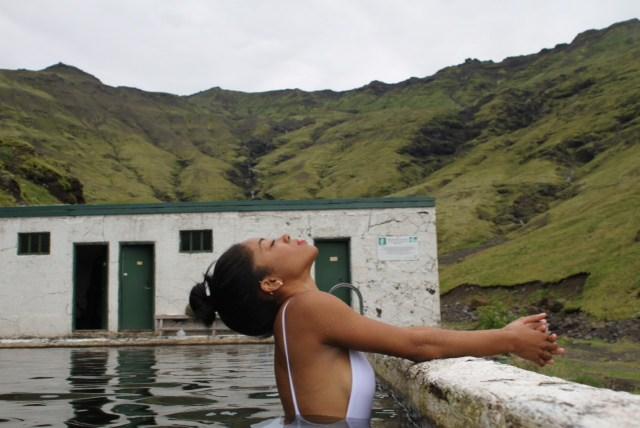 Bombshell's It Girl Is Riveting
By Ebony Allison

Jul. 23 2018, Updated 4:01 a.m. ET
There's something compelling about a woman who refuses to accept life's status quo- a woman who simply cannot adhere or conform to a lifestyle that is unfulfilling to her soul. Lauren Miller better known as Lo Millie embodies this woman. With her inimitable ambition and uncompromising dedication to succeed, Lo is fulfilling her own personal legend and using her experiences to motivate a culture of self-ruling individuals during the process.
After graduating from Howard University and jumping into the working world, Lauren noticed there was a void in her life. This void would later send her on a journey which led her to create The Can't Stay Put Movement. A movement focused on growth, stepping out of comfort zones and never being complacent.
" I was yearning for something more purposeful for my life and I felt like the job I was doing wasn't quite that. I knew I was ready to send out a sign to the universe to figure out what that purpose was. From there I put in my 3 months notice at my job. I had no idea what I was going to do but I treated myself to a trip to Maui and while I was there I did a lot of praying – so I guess you can say it was my version of an eat,pray, love trip. While I was there I took a hike through a bamboo forest and prayed to God. I said I would run 100mph towards my passion if he would just reveal to me what it was I was meant to be doing. It was really like he answered right there. He said-Lauren you need to figure out how to inspire people through your experiences."
Article continues below advertisement
Fearlessly embarking on her own odyssey, Lo modestly confesses her initial reservations, " It was the first time in my life that I was working towards something that I didn't know what the outcome would be," but a foundation had been created in the earlier years of her life that she had yet to realize would be essential in giving birth to Can't Stay Put. Continuously traveling since the age of 5 and having visited 16 countries prior to ever giving thought to The Cant Stay Put Movement, the groundwork for her future gutsy decision had already been established.
Article continues below advertisement
Big dreams call for even bigger sacrifices which have become the norm for Lo. If you were asked to choose between living a comfortable life or sleeping in guest rooms for 3 years, most people would opt for the comfortable life- the life Lauren walked away from to live out her purpose. Living her nomad life, the young visionary has seen parts of the world that few will ever experience.
Her top five favorite countries? Iceland (a city chosen by her followers) she recalls it to be one of the most beautiful places she's ever been to. "Iceland reignited my curiosity about the wonders of life." She professes India to be another favorite because of it's spirituality. "India put a lot of things into perspective for me. I wish that at some point in my journey I'm able to take young at risk kids from the States to a place like that so they can understand how privileged they really are." She met some of the most genuine people while in Nicaragua, prayed with Monks in the mountains of Thailand and realized how beautiful Africa really is while in Ghana.
Despite being blessed to wake up every morning living out her purpose, adversities will always have a part in this story.
Article continues below advertisement
When asked about her biggest struggles, Lo modestly admits- "The hardest thing to deal with are the dream killers and doubters. I do a pretty good job at protecting my mental peace but there are people who are close to you that you would think would be your biggest cheerleaders but they're not. "
Through it all, Lo Millie continues to run towards her purpose. With influential people in her life,such as her father-who she proudly admits groomed her into the woman she is and a squad of followers depending on her to win, our "It Girl" and her tenacious, unshakeable and daring drive will be one of the women to shape the next generation.
Her eloquent words of encouragement to her fellow dreamers are honest.
"Realize people are not going to understand your vision but that does not mean your vision is not valid. You have to keep a laser like focus and you also have to understand that there is so much work you must do before the money comes. Never do it for the money, do it because you have a burning desire to see your vision through."