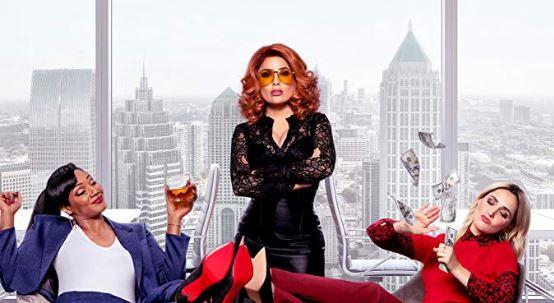 Exciting Movies Premiering in 2020
By Jamie Rollo

Dec. 20 2019, Updated 8:28 p.m. ET
With a new decade right around the corner, movie buffs are getting stoked for the upcoming releases hitting theaters in 2020. Many sequels, prequels, and television show adaptations seem to be the trend of the upcoming year with fans waiting in anticipation. Here are the movies we're most excited about for 2020.
Article continues below advertisement
The Grudge
Who can forget the horror movie that defined 2004? The Grudge (2004) left chills on everyone's spines and gave the masses a fear of showering. This remake of the classic film seems to be even more terrifying. Directed by Nicolas Pesce, this horror film will hit theaters January 3.
Like a Boss
Starring Tiffany Haddish and Rose Byrne, Like a Boss follows the story of two friends who opened up their own cosmetics company. Everything goes swell until one investor, played by Salma Hayek, comes in with a million dollar investment. She warns them that friendship and business don't mix, and thus the conflict arises. Also featuring stars like Jacob Latimore and Jennifer Coolidge, Like a Boss is one of the most anticipated movies of 2020 and will be in theaters January 10.
Article continues below advertisement
The Turning
A modern take on the classic 1898 Henry James novella, The Turn of the Screw, The Turning follows the story of a young governess hired to care for two children who recently lost their parents. Soon, the governess gets the feeling that the house is haunted. Starring Mackenzie Davis, Peter Quint, and Stranger Things' Finn Woflhard, The Turning will hit theaters January 24.
Article continues below advertisement
Gretel & Hansel
Based on the classic grim fairy tale, Gretel & Hansel tells the eerie tale of a brother and sister who wander to the woods to find a creepy witch. The 2020 version takes on a more creepy, Gothic aesthetic. It stars Jessica De Gouw, Alice Kridge, and It's Sophia Lillis. This chilling film will hit theaters January 31.
Article continues below advertisement
Birds of Prey
DC Comics continues the story of Harley Quinn from their 2016 box office hit Suicide Squad. Margot Robbie reprises her role as the lead starring alongside Mary Elizabeth Winstead, Jurnee Smollett-Bell, Ewan McGregor and more. Birds of Prey hits theaters February 7.
Article continues below advertisement
A Quiet Place Part II
John Krasinki continues his 2018 apocalyptic tale in a world where making the slightest sound will have you killed. News about a sequel has been buzzing around Hollywood and with a trailer and release date set, fans are awaiting to find out what happens next as the Abbott family teams up with a stranger to survive. The trailer gives barely any details and the film won't be hitting theaters until March 20.
Article continues below advertisement
Mulan
Disney has been all about the live action remakes of their beloved animated classics. There has been a lot of news surrounding the live action remake of Mulan, mostly because fans are upset that Mushu was cut out of the script. Nonetheless, the film starring Liu Yifei, Donnie Yen, Jet Li, and Gong Li seems to be pretty solid. It won't be in theaters until March 27.
Article continues below advertisement
Promising Young Woman
The trailer for this film dropped last week and has been trending across social media ever since. Promising Young Woman follows the story of a medical school drop out who has a vengeance for men who take advantage of drunk women. Carrie Mulligan stars as Cassie, a woman who goes to different bars pretending to be heavily intoxicated. Once some man decides to take her home and take advantage, she kills them. Seemingly a nod to the #MeToo era, this groundbreaking film is set to hit theaters April 17.
Article continues below advertisement
Antebellum
From the producers of Get Out, this film has yet to reveal its real plot. From the teaser trailer, however, we can tell it has a similar feel to Get Out and Us, but this time it takes on the world of the Antebellum south. Starring Janelle Monae, the trailer sees her being abducted and brought to an 1800's plantation. Hitting theaters this April, we'll have to wait for some more details to come out.
Article continues below advertisement
Bob's Burgers: The Movies
This film has been rumored for what feels like years, but we've finally gotten confirmation and release date. We don't know much of what it's going to be about, but we do know it will be a musical obviously based off of the hit FOX animated series Bob's Burgers. There is no official trailer yet, but with a confirmed release date of July 17, fans should expect one any day now.