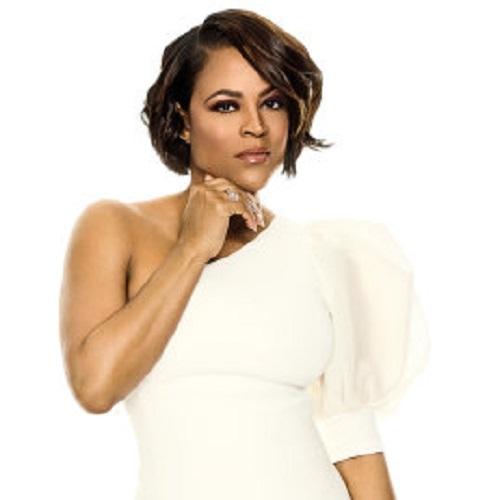 The SCOOP With The Hip-Hop Socialite…
By Mara

May 7 2017, Updated 7:45 p.m. ET
The Hip–Hop Socialite recaps the hottest celebrity news and gossip of the last week, and drops a few exclusives…
Basketball Wives Doyenne Shaunie O'Neal Gives The 'SCOOP' On Evelyn Lozada's Return, Rumors, And Her Thoughts On Jackie Christie's Estrangement From Her Daughter
VH1's Monday night lineup is must-see TV due in part to the super popular Basketball Wives!! The hit reality series details the lives of a group of women who are the wives, girlfriends, exes, or groupies (just keeping it real on here) of professional basketball players, and the drama-filled situations that sometimes unfold when the ladies come together!!
The show's sixth season premiered last month, and attracted a record breaking 2.6 million viewers – the highest ratings in the history of the franchise! Besides the deliciously catty drama, the show's success can be credited to Basketball Wives executive producer Shaunie O'Neal. The successful entrepreneur is also a part of the cast, and has mastered the art of keeping things interesting between the ladies on the show.
I recently caught up with Shaunie for a quick chat, and we discussed the rumors surrounding the show, the return of Evelyn Lozada to the series, and Jackie Christie's situation with her estranged daughter, among other SCOOP-worthy things!! Check out highlights below.
ON THE INFLUENCE OF BASKETBALL WIVES AND OTHER REALITY SHOWS ON YOUNG PEOPLE:
This is my personal opinion – I think that's a parenting issue because my kids don't want to emulate anybody on TV. I've never heard my kids say, and I have five children, I've never heard them say they want to be like so-and-so on TV, you know what I mean? Especially on these reality shows. So I think that's more of a home issue then a TV issue. First of all, I think certain kids of certain ages shouldn't be watching this stuff, and second of all, if we're talking about teenagers and all that, my teenagers watch reality TV and don't' want to be that person, good or bad, you know what I mean? It might be some things, you know, like a…for example, me growing up watching Oprah was like wow, I really aspire to be like her. Or I love what she does, or something like that. But I never looked at Three's Company and wanted to have two girls and a man as my roommate, you know. I just think it's a parenting thing, it's what they're taught at home, it's what they're told as children and uplifted and taught – that's my personal opinion. I feel like there is a lot of kids that might not get that at home, which is why they fall into wanting to be like the rapper, or wanting to be just like the reality star or what have you. I do think that's a lack of something missing at home.
Article continues below advertisement
I think the timing for her leaving was just life. Things happen in life as we all know, and her marriage with Chad and all of that that happened, I think she just felt like that's what the show was about to turn into for her. It was about to be this whole like Evelyn, what happened with Chad? It was just a bad time for her personally to be doing TV, and we've talked about it since then. She just said she kind of felt overwhelmed, and with the drama on the show and the drama in her real life – we honestly didn't know what was going on. We knew she was in a relationship, but we didn't know what was going on behind closed doors – good, bad or ugly – we didn't know. So, she's dealing with what's going on on the show, her personal life, and everything blowing up publicly, etcetera, it was just something I think that she felt she could just throw her hands up like I can't do this anymore. I don't want to do it – I don't want these girls throwing stuff in my face when it comes to my relationship, this, that and the other. So it was just easier at that time for her to walk away. When she did that, she was able to go off, and go to OWN and get a show and what have you, and whatever happened over there, happened over there to where she had reached out, and I had always hit her like, you can always come back because she and I are friends, and it was just natural and organic. And I was like, you can always come back – every season I was always telling her that. So this season, it worked.
Article continues below advertisement
ON IF SHE DIDN'T WANT BRANDI MAXIELL TO RETURN TO THE SHOW:
That's false – I didn't really care. It actually came to me before the season started that she was not going to asked to return. It wasn't anything she had done or whatever, it was just like we were going for a new look, and as well as when Evelyn decided to come back, they just felt like some people weren't needed, you know what I mean? Or let's kind of just start fresh. So we did that, and along the way, they decided well let's have a little…Malaysia, let's have Malaysia kind of fill in and see how that goes. And we did that, and Malaysia needed her friend, and so then Brandi comes…I think Brandi might be in two episodes, maybe three at the most. So she's not there much because I think ultimately, it just didn't work out. We organically did not know that there were some issues there with other cast members, and I don't want to give away anything because it comes out during the season, but we didn't know behind closed doors that in real life, there were some issues. So when Brandi came back, it was like, oh okay, so this might not work out. And Malaysia is back, but she's not even back as much as you think, you know what I mean? But Malaysia is a staple for LA – she's been there since the franchise in LA started, so she's in our opening credits, she's there because we definitely want to show her that respect and that we appreciate her, but she's not even in the season that much.
Article continues below advertisement
I wouldn't say drama – I don't know what's better. I'd just say they fell a little flat. It wasn't so much that were looking for drama – it was just like, you know, somebody can have a great personality when you meet them, when you talk to them one-on-one, everything's great. And when those cameras come on, it's like that person kind of goes away – it could be shy, it could be just not knowing how to continue to be natural with cameras watching you. And it was some sisters, three sisters, and they came to the show with some internal drama that we did not know about – something that this has been lingering in their family for quite some time. We didn't really know about, but it started to come out as we filmed, but it was so hard for us to understand. It was so deep, and going on for so long before we ever met them, that even they couldn't explain the layers of it to us. So here we are filming with these group of sisters that can't get along with each other but for like the first few times we filmed, and these layers of just…they had drama, so the drama was there, but it was just like didn't make sense drama to us. So for them being new, I think for our viewers, they wouldn't even got a chance to connect with them as people like who is this person? Do I like this person? Do I not? Is she a love to hate or a love to love? It was so far gone, that the disconnect was just there to where it wasn't working. They're sweethearts, they're all very nice girls, and I like them – I didn't get to know them really, really well, but it was just a disconnect of what was going on in real life that we couldn't really wrap our heads around versus we're trying to film a show here. If ya'll got this drama, we're here for it, but we gotta understand it, and we don't.
Article continues below advertisement
ON IF EVELYN TRIED TO BLOCK JENNIFER WILLIAMS FROM RETURNING TO THE SHOW:
False, it's false. Well, clearly it's false because we've seen that she's filming already. That's out there in the atmosphere that she's filming, so it had nothing to do with Evelyn why she wasn't…actually, let me say this. At the beginning of the season, it wasn't even a discussion because we had all these new girls, and so it wasn't like a thing at the beginning of the season. Later on, it became a thing, but it was way above Basketball Wives, it was way above production, it went to like a network thing, yes or no. It was out of our hands because I've been cool with Jennifer coming back for a minute, but there were some other complicated issues that are completely out of our hands that had to be fixed on a whole other level than anything to do with 'Basketball Wives'.
Article continues below advertisement
You know, I feel the same way you do about Jackie – she's a sweetheart, she's never done anything to me, and I've never had a reason to have any problems with Jackie, ever. To this day, I don't personally have an issue with Jackie Christie, but I said this earlier to someone that I just don't understand what is going on with that entire situation. And I've sat down with Jackie because I didn't know Jackie even had grandkids until this incident happened. Never heard any mention of grandkids, which is odd to me – I don't have grandkids, but I would imagine if I did, the world would know because I just would be a proud grandmother. And knock on wood because I don't want no grandkids no time soon, but I'm saying that to say that it was shocking that she even had grandkids. And then when find out that she has them this way was like, oh my God! What the heck is going on? And then I've got all these questions like everybody else like why did she have to start of GoFund [GoFundMe]. I'm sure Jackie would have helped her – this just doesn't make sense. So, I asked her, and I don't' want to put her business out there because I don't know if she wants the world to know that or not, but it was a lot of reasons why Jackie gave as far as her relationship with her daughter. To me, as a mother, and I just don't want to throw shade on anybody because I feel like whatever her truth is, is her truth, and whatever she did or doesn't do is her. But me as a mom, I don't really care what my relationship is with my child at that point if there's a grandchild involved that is hurt, that needs me; if it's a grandchild involved, and it's a birthday or birth, I'm going to be there, you know what I mean? You've damn near are going to have to move to another country and hide and I can't find you for me to not be involved in some way, especially a tragedy, you know what I mean? I just would have jumped on a plane and been there, and I can't fathom any reason why she wouldn't. But she apparently has a reason why she wasn't there that she stands by and she's okay with, and if that's the way she feels, who am I? That wouldn't be me, but she stands by her decision, and it's heartbreaking because every Monday, her daughter goes in on Twitter and any other social media that she can kind of defending…not really defending, but telling her truth. Like that's not true, or this and that, and it's like you keep finding out more and more, and you're like, what the hell? I cannot wrap my head around how this is okay, at all.
Article continues below advertisement
I even told her to her face, so this will not be news, that I'm choosing to remove myself from any story line about it, any conversation about it because a – Jackie has always been so sweet and so nice and all those…she's supportive, she's all these wonderful things, and she's always been that to me, but this situation, I'm so bothered by, that I'm torn too. Like I don't…I believe it, but I don't want to believe it – I don't want to believe that that's the Jackie Christie I know. And what reasons she gave me, to me aren't…they just still don't match, you know what I mean? But I don't…like I said, I still go give Jackie a hug, and I still like her, but this right here, I don't even know. I just have chosen to not have an opinion, not say anything because she's very sensitive about it, and it's caused a lot of tears and a lot of conversations this season, you'll see. It gets really real, and actually, it still is very, very real right now because we're still filming. So it's a very sensitive subject, and there's a lot of opinions, but there are some that are riding and dying with Jackie and the whole thing, so I don't know. Girl, I just try to stay out of it.
Watch how things unfold on Basketball Wives by tuning in to VH1 every Monday night at 9 pm.
To keep up with all of Shaunie's endeavors, be sure to follow her on Twiter @ShaunieONeal.
To keep up with Mara the Hip-Hop Socialite, be sure to follow her on Twitter @hiphopsocialite and Instagram @thehiphopsocialite.