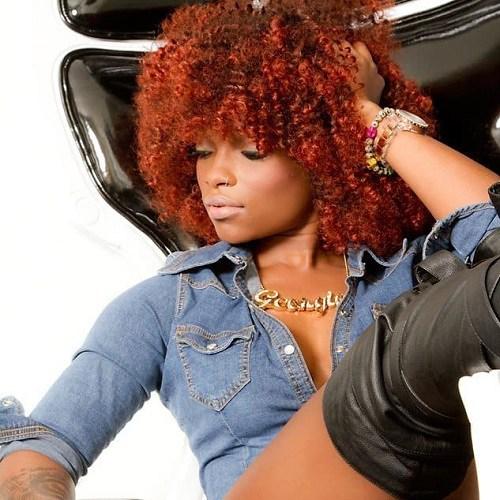 The SCOOP With The Hip-Hop Socialite…
By Ebony Allison

Apr. 24 2017, Updated 4:47 a.m. ET
The Hip–Hop Socialite recaps the hottest celebrity news and gossip of the last week, and drops a few exclusives….

Enter For A Chance To Win In The Bella Rose Passion Cosmetics Giveaway!!

"The SCOOP" is back with another amazing giveaway courtesy of Bella Rose Passion Cosmetics!!

Bella Rose Passion is a cosmetic brand featuring professional, elegant and wallet-friendly products with a contemporary flare. Founded by New Jersey native Bella Rose, the cosmetic line is an edgy collection of bold, colorful, cruelty-free products that's been featured in magazines and on the Steve Harvey Show.

Bella Rose launched Bella Rose Passion Cosmetics after opening a boutique in 2010. The lip line features all-natural products and ingredients such as Shea butter, and helped launch a natural revolution in the cosmetic industry. Bella Rose products are sold in various boutiques in Houston and Atlanta, and the brand is expanding more and more each day.

One of the most popular items in the Bella Rose collection is the Nude Passion matte lip color (pictured). Nude Passion glides on like a liquid and dries to a long lasting matte finish without dehydrating the lips. The ultra matte formula will last up to 18 hours without fading, bleeding or cracking lips. To enter for your chance to win your own tube of Nude Passion, simply tweet, "I just got the 'SCOOP' from the @HipHopSocialite via @BombshellbyBleu" (or you could just copy and paste it) by next Thursday, April 20. A winner will be announced via Twitter the following day, Friday, April 21.

If you aren't selected as the winner, you can order your own Bella Rose products by visiting their website at www.bellarosepassion.com.

A "Sex Tape", A Lawsuit, And Women Being Smarter Than Men: Georgia Reign Gives Us 'The SCOOP'

Although a talented singer-songwriter, most of us were introduced to the gorgeous Georgia Reign when she became the better half of 'The African King of Comedy', Michael Blackson.

Georgia and Michael moved in together after only a few weeks of dating, and have been holding down a home together for over two years. Fans got an inside look at the couple's life together last year on the Oxygen network's reality series Living with Funny, and in February on Valentine's Day, the two became engaged.

Late last month, Georgia and Michael's road to marital bliss got a little bumpy when TheShadeRoom posted a video showing a full-frontal Blackson in a hotel room with a woman who was not Georgia Reign. The Ghana native addressed the scandal on social media in the hilariously funny way that he's become known for, and apologized to Georgia for the indiscretion. Things have since died down, but the situation is far from over. According to Georgia, Michael has kept his word to sue TheShadeRoom because of opportunities he missed out on due to the sex tape scandal. When I spoke to Georgia last week, she gave me the 'SCOOP' on that lawsuit and the woman in the sex tape. During our chat, she revealed that she has no plans to leave Michael and agrees with his decision to sue. We also discussed her upcoming projects in music and acting. Check out highlights below.

ON HOW SHE FOUND OUT ABOUT THE VIDEO:

Actually, I was asleep, and he was lying next to me, and when I woke up, my phone had rang. I started to answer it, and he said, 'Don't answer that babe.' I'm like, 'What?' And then he said, 'ShadeRoom [TheShadeRoom.com] posted some old picture of me,' because he didn't know it was a video. He says, 'ShadeRoom posted some old picture of me – this sh*t is ridiculous. I don't understand why they would do that.' I couldn't quite comprehend – I had just woke up, so once I got myself together, I answered my phone because it continued to ring, and that's how I found out that there was a video. He immediately got on the phone with a lawyer, so we didn't even talk about it soon as it hit.

ON IF THE VIDEO TOOK PLACE DURING THEIR RELATIONSHIP:

I'm sure it wasn't taped before our relationship, but I think it was taping during a period of our breakup. Because you know in relationships, you stop talking for a minute, and then you come back home and like are you're ready to talk? So there were some times in our relationship where we wouldn't speak for like five days to two weeks, so I'm pretty sure it happened then. But it was maybe a year ago, if anything. It definitely wasn't after her proposed, it definitely wasn't like a week or two before he proposed.

ON THE WOMAN IN THE VIDEO:

He thought that maybe it would've been an ex because he thought the picture was old and was taken in his house, and then once the video came out, he's like oh, okay, so it wasn't a hotel room. But they're men – he's in the entertainment industry; it was definitely not a f*cking ex. It was probably a groupie – I know for a fact it was a groupie. I feel like you gotta know your man. I know my man wasn't…I'm not saying he didn't get women before, but since I've been on his arm, a lot of women on a higher-level I would say have been throwing themselves at him because they see me on his arm, and they're like, well, she gotta be there for a reason. So they think that they can get what I get from him, so it was definitely a groupie.

It was a groupie; she's 35-years-old. She met him after…he did an after party, and she met him at the after party, and immediately, she took a picture with him, DM'd him the picture talking about oh my God, I love you. I just want to do whatever; I've been following you for years. You told me once you would give me tickets to your show; you never did. To make a long story short, she was in his room for six minutes to be exact. She had her girl, her homegirl waiting in the car because I guess the b*tch was broke and didn't have a car, so her girl had to drive her there. But you know I was explaining to Michael like at the end of the day, yeah, she's a groupie, but she had to send it in to ShadeRoom for $500 to get paid or whatever the case may be. It was never about you babe, it was about me. And I just wanted to say like, b*tch, if you wanted to get that close to me, you should've hit me up because obviously, you got close to my man and exposed him just so you could get to me. That didn't get to me, that embarrassed him. So next time, b*tches need to start hitting me up, that's what it's about. It's not about him.

ON IF SHE REALLY LEFT MICHAEL:

Girl, I left the damn house to get some air. [laughs] I left the house to get some air – like my name is on the lease. If anything, your ass is going to leave, so no I did not leave when he said I left him. I went to get some air, I work out a lot, so I went to the gym, and then the next day, I went shopping. So he probably thought I left because I didn't let him in our master bedroom, so he had to sleep in the guest room. So he thought like maybe she was in there packing her sh*t, but like I said, this is my house, I didn't do sh*t wrong, your d*ck is on the internet, so if anything, he's embarrassed.

ON SHE AND MICHAEL WORKING THINGS OUT:

For me, I'm not going to say work it out because I feel like since he proposed – way before he proposed – we've been trying to work it out. We moved in with each other only within a week of knowing each other, so we've always been trying to work it out. I feel like if we didn't move in with each other, we would've been broken up, so…we're not going anywhere, especially now that this sh*t is out. I'm going to stand by him because he's dumb – men are stupid. It's like they know, but they don't f*cking know no matter how many times you try to save them from what we already foresee because we're women. We already can see it coming when other women start to like hit you up or follow you when they do the sh*t that they wasn't doing before. Michael, he just needs a little guidance from somewhere else. Maybe a counselor because he's reaching a peak in his life where on social media he's the king of comedy, you know. He makes everybody laughs on social media, and now he's on more TV shows, so the demons are just going to keep coming. So there's no way I can leave him right now knowing that more evil is going to start coming at him – well us because they drag me into it. We're definitely working it out if that's what you want to say.

ON MICHAEL VERSUS THESHADEROOM:

The lawsuit is definitely filed, and as far as what's going on, I can't speak on it because there is a lawsuit, and which you're not allowed to speak on it just because they took it there. That's all I can say about that. I will say the owner is a Nigerian woman, and I've met her, and she had claimed to love Michael. I just feel like I know you have a blog site, but to put his private area on the internet, and to go as far as she has gone, I just feel like it was mad disrespectful, so yeah. he should sue her ass.

What I will say is he had a lot of opportunities on the table, and by Michael not being as big as Kevin Hart yet, it caused a lot of those people to walk away because it wasn't just social media. It hit TMZ, it hit BET, it hit a lot of big networks, and at the end of the day, you can't throw somebody's naked body out for the world to see without their permission. And that's exactly what happened, and now you know, they're getting sued. That's as much as I can say right now.

ON HER CAREER:

I'm in acting school now, so I've been taking that up for about a month. I have like two months left, but I'm actually dropping a cover song tomorrow, and it's pertaining to the whole scandal that went down this past week. I'm working on my new EP; it's called 'In My Feelings'. It should be out in June, like right before July – like in the middle of June, July. 'It's called In My Feelings' – it's going to be a 6 to 7 song EP. I'm going to give you one minute videos on Instagram to go with every song, and it's going to be like a story. It's going to tell like a relationship, the bad and the good in a relationship. It's going to be hot – I can't wait.

I will be auditioning [for acting] in a month, but my new management, I can't speak on it yet because we're going to reveal it next month before we start recording my EP. But my new management, they just find me to be so funny, I don't know why, amongst Michael and my friends and family, so they thought I should take acting classes. I also have the TV show 'Underground', I don't know if you watch it, but my manager is friends with the director, and he wants me to audition at the end of the month for 'Underground'.

I also have my workout line – I'm releasing it next month. It's called BODY by Georgia Reign, and I wanted to make it because I post my workout videos on my workout page a lot, and I had all different body sizes of women asking me how do my pants stay up because theirs always slouch down or their too big in the crotch or the bra is too small. So I just wanted to make something for women of all sizes, and I really work out – my followers know that, and again it's called BODY by Georgia Reign, and it comes out next month.

Be sure to keep up with all of Georgia Reign's endeavors by following her on Twitter @GeorgiaReign.

To keep up with Mara the Hip-Hop Socialite, be sure to follow her on Twitter @hiphopsocialite and Instagram @thehiphopsocialite
-
The Hip–Hop Socialite recaps the hottest celebrity news and gossip of the last week, and drops a few exclusives….
Enter For A Chance To Win In The Bella Rose Passion Cosmetics Giveaway!!
Article continues below advertisement
Bella Rose Passion is a cosmetic brand featuring professional, elegant and wallet-friendly products with a contemporary flare. Founded by New Jersey native Bella Rose, the cosmetic line is an edgy collection of bold, colorful, cruelty-free products that's been featured in magazines and on the Steve Harvey Show.
Bella Rose launched Bella Rose Passion Cosmetics after opening a boutique in 2010. The lip line features all-natural products and ingredients such as Shea butter, and helped launch a natural revolution in the cosmetic industry. Bella Rose products are sold in various boutiques in Houston and Atlanta, and the brand is expanding more and more each day.
One of the most popular items in the Bella Rose collection is the Nude Passion matte lip color (pictured). Nude Passion glides on like a liquid and dries to a long lasting matte finish without dehydrating the lips. The ultra matte formula will last up to 18 hours without fading, bleeding or cracking lips. To enter for your chance to win your own tube of Nude Passion, simply tweet, "I just got the 'SCOOP' from the @HipHopSocialite via @BombshellbyBleu" (or you could just copy and paste it) by next Thursday, April 20. A winner will be announced via Twitter the following day, Friday, April 21.
If you aren't selected as the winner, you can order your own Bella Rose products by visiting their website at www.bellarosepassion.com.
Article continues below advertisement
Although a talented singer-songwriter, most of us were introduced to the gorgeous Georgia Reign when she became the better half of 'The African King of Comedy', Michael Blackson.
Georgia and Michael moved in together after only a few weeks of dating, and have been holding down a home together for over two years. Fans got an inside look at the couple's life together last year on the Oxygen network's reality series Living with Funny, and in February on Valentine's Day, the two became engaged.
Article continues below advertisement
Late last month, Georgia and Michael's road to marital bliss got a little bumpy when TheShadeRoom posted a video showing a full-frontal Blackson in a hotel room with a woman who was not Georgia Reign. The Ghana native addressed the scandal on social media in the hilariously funny way that he's become known for, and apologized to Georgia for the indiscretion. Things have since died down, but the situation is far from over. According to Georgia, Michael has kept his word to sue TheShadeRoom because of opportunities he missed out on due to the sex tape scandal. When I spoke to Georgia last week, she gave me the 'SCOOP' on that lawsuit and the woman in the sex tape. During our chat, she revealed that she has no plans to leave Michael and agrees with his decision to sue. We also discussed her upcoming projects in music and acting. Check out highlights below.
ON HOW SHE FOUND OUT ABOUT THE VIDEO:
Actually, I was asleep, and he was lying next to me, and when I woke up, my phone had rang. I started to answer it, and he said, 'Don't answer that babe.' I'm like, 'What?' And then he said, 'ShadeRoom [TheShadeRoom.com] posted some old picture of me,' because he didn't know it was a video. He says, 'ShadeRoom posted some old picture of me – this sh*t is ridiculous. I don't understand why they would do that.' I couldn't quite comprehend – I had just woke up, so once I got myself together, I answered my phone because it continued to ring, and that's how I found out that there was a video. He immediately got on the phone with a lawyer, so we didn't even talk about it soon as it hit.
ON IF THE VIDEO TOOK PLACE DURING THEIR RELATIONSHIP:
Article continues below advertisement
I'm sure it wasn't taped before our relationship, but I think it was taping during a period of our breakup. Because you know in relationships, you stop talking for a minute, and then you come back home and like are you're ready to talk? So there were some times in our relationship where we wouldn't speak for like five days to two weeks, so I'm pretty sure it happened then. But it was maybe a year ago, if anything. It definitely wasn't after her proposed, it definitely wasn't like a week or two before he proposed.
Article continues below advertisement
He thought that maybe it would've been an ex because he thought the picture was old and was taken in his house, and then once the video came out, he's like oh, okay, so it wasn't a hotel room. But they're men – he's in the entertainment industry; it was definitely not a f*cking ex. It was probably a groupie – I know for a fact it was a groupie. I feel like you gotta know your man. I know my man wasn't…I'm not saying he didn't get women before, but since I've been on his arm, a lot of women on a higher-level I would say have been throwing themselves at him because they see me on his arm, and they're like, well, she gotta be there for a reason. So they think that they can get what I get from him, so it was definitely a groupie.
It was a groupie; she's 35-years-old. She met him after…he did an after party, and she met him at the after party, and immediately, she took a picture with him, DM'd him the picture talking about oh my God, I love you. I just want to do whatever; I've been following you for years. You told me once you would give me tickets to your show; you never did. To make a long story short, she was in his room for six minutes to be exact. She had her girl, her homegirl waiting in the car because I guess the b*tch was broke and didn't have a car, so her girl had to drive her there. But you know I was explaining to Michael like at the end of the day, yeah, she's a groupie, but she had to send it in to ShadeRoom for $500 to get paid or whatever the case may be. It was never about you babe, it was about me. And I just wanted to say like, b*tch, if you wanted to get that close to me, you should've hit me up because obviously, you got close to my man and exposed him just so you could get to me. That didn't get to me, that embarrassed him. So next time, b*tches need to start hitting me up, that's what it's about. It's not about him.
Article continues below advertisement
ON IF SHE REALLY LEFT MICHAEL:
Girl, I left the damn house to get some air. [laughs] I left the house to get some air – like my name is on the lease. If anything, your ass is going to leave, so no I did not leave when he said I left him. I went to get some air, I work out a lot, so I went to the gym, and then the next day, I went shopping. So he probably thought I left because I didn't let him in our master bedroom, so he had to sleep in the guest room. So he thought like maybe she was in there packing her sh*t, but like I said, this is my house, I didn't do sh*t wrong, your d*ck is on the internet, so if anything, he's embarrassed.

ON SHE AND MICHAEL WORKING THINGS OUT:
For me, I'm not going to say work it out because I feel like since he proposed – way before he proposed – we've been trying to work it out. We moved in with each other only within a week of knowing each other, so we've always been trying to work it out. I feel like if we didn't move in with each other, we would've been broken up, so…we're not going anywhere, especially now that this sh*t is out. I'm going to stand by him because he's dumb – men are stupid. It's like they know, but they don't f*cking know no matter how many times you try to save them from what we already foresee because we're women. We already can see it coming when other women start to like hit you up or follow you when they do the sh*t that they wasn't doing before. Michael, he just needs a little guidance from somewhere else. Maybe a counselor because he's reaching a peak in his life where on social media he's the king of comedy, you know. He makes everybody laughs on social media, and now he's on more TV shows, so the demons are just going to keep coming. So there's no way I can leave him right now knowing that more evil is going to start coming at him – well us because they drag me into it. We're definitely working it out if that's what you want to say.
Article continues below advertisement
ON MICHAEL VERSUS THESHADEROOM:
The lawsuit is definitely filed, and as far as what's going on, I can't speak on it because there is a lawsuit, and which you're not allowed to speak on it just because they took it there. That's all I can say about that. I will say the owner is a Nigerian woman, and I've met her, and she had claimed to love Michael. I just feel like I know you have a blog site, but to put his private area on the internet, and to go as far as she has gone, I just feel like it was mad disrespectful, so yeah. he should sue her ass.
What I will say is he had a lot of opportunities on the table, and by Michael not being as big as Kevin Hart yet, it caused a lot of those people to walk away because it wasn't just social media. It hit TMZ, it hit BET, it hit a lot of big networks, and at the end of the day, you can't throw somebody's naked body out for the world to see without their permission. And that's exactly what happened, and now you know, they're getting sued. That's as much as I can say right now.
Article continues below advertisement
I'm in acting school now, so I've been taking that up for about a month. I have like two months left, but I'm actually dropping a cover song tomorrow, and it's pertaining to the whole scandal that went down this past week. I'm working on my new EP; it's called 'In My Feelings'. It should be out in June, like right before July – like in the middle of June, July. 'It's called In My Feelings' – it's going to be a 6 to 7 song EP. I'm going to give you one minute videos on Instagram to go with every song, and it's going to be like a story. It's going to tell like a relationship, the bad and the good in a relationship. It's going to be hot – I can't wait.
Article continues below advertisement
I will be auditioning [for acting] in a month, but my new management, I can't speak on it yet because we're going to reveal it next month before we start recording my EP. But my new management, they just find me to be so funny, I don't know why, amongst Michael and my friends and family, so they thought I should take acting classes. I also have the TV show 'Underground', I don't know if you watch it, but my manager is friends with the director, and he wants me to audition at the end of the month for 'Underground'.
I also have my workout line – I'm releasing it next month. It's called BODY by Georgia Reign, and I wanted to make it because I post my workout videos on my workout page a lot, and I had all different body sizes of women asking me how do my pants stay up because theirs always slouch down or their too big in the crotch or the bra is too small. So I just wanted to make something for women of all sizes, and I really work out – my followers know that, and again it's called BODY by Georgia Reign, and it comes out next month.
Be sure to keep up with all of Georgia Reign's endeavors by following her on Twitter @GeorgiaReign.
To keep up with Mara the Hip-Hop Socialite, be sure to follow her on Twitter @hiphopsocialite and Instagram @thehiphopsocialite