Astrological Weekly Forecast: New Moon in Libra and Planetary Shifts
By Raquelle

Oct. 15 2017, Updated 7:20 p.m. ET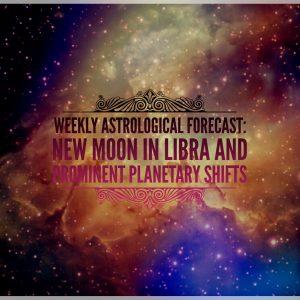 This week's astrological forecast delineates energies prompting growth in relationships, communication, and the search for profound, intuitive insights. Our responsibilities and goals take precedence while our search for truth permeates the penumbras of our consciousness.
Sunday (day of the Sun) 10/15/17:
The Moon exits Leo at 7:18 AM EDT and makes its ingress into meticulous Virgo. Our necessity for order and precision is now amplified and funneled into our daily tasks and activities. There is an urgency prompting us to concentrate on current projects and goals in a manner that, like the energy of Virgo, dissects information and eliminates superfluous content.
As Mars opposes Chiron (the asteroid known as the Wounded Warrior), there may be emotional wounds that surface, causing resentment and defensiveness. This aspect demands that we solve subconscious issues in order to heal and prosper. As the day progresses, the Sun is in harmony with Saturn, enabling us with the capacity to tackle our responsibilities with dutiful resilience.
Monday (day of the Moon) 10/16/17:
Article continues below advertisement
The Sun creates a conjunction (close proximity) to Mercury, making us verbally sharp and offering the will direct harmony with the intellect. Our mental faculties work to attract our desires. Today's Sun is in agreement (sextile) with Saturn, creating energy that honors responsibility and organization. This aspect is, simultaneously enriching the Virgoan Moon's meticulous need for service and duty.
Tuesday (day of Mars) 10/17/17:
Mercury ingresses into Scorpio today, making our communication brusque, penetrating, and directed at piercing through the proverbial layers of the human psyche in order to arrive at profound truth and insight. While Mercury in Libra strives for tact and diplomacy, Mercury in Scorpio prefers to pierce through all that is obscured, in order to resuscitate truth and awareness.
Wednesday (day of Mercury) 10/18/17:
Article continues below advertisement
Mercury (on the day of said planet) makes an exact conjunction to Jupiter, driving us to search for expansive knowledge, and intellectual growth. We hold the capacity to view a broader perspective while, simultaneously, being able to verbalized our own truth. There is a sense of vitality, strength, and dynamic energy that resonates with the Sun's semi-sextile to Mars, creating action-driven impetus to conquer our day. It is favorable to harmonize these planetary energies, being dynamic, with proper rest and meditation.
Thursday (day of Jupiter) 10/19/17:
The new Moon in Libra brings us to a commencement cycle of balance, compromise, partnerships, and learning to balance opposing perspectives. This is a favorable time to begin new business transactions, establish and maintain peaceful relationships, and work with the collective in order to bring forth greater peace. New Moon cycles foster growth by eliminating negative behavior patterns. With the New Moon in Libra, we are summoned to search for effective methods of cooperation in all relationships.
Friday (day of Venus) 10/20/17:
Article continues below advertisement
Moon conjunction Mercury joins our needs and intellect. Our moods can fluctuate as a result of two oscillating planets, while our emotions are easily expressed and demonstrative through communication. The inconjunction between Mars and Uranus can make us impulsive and erratic: we may forget to make proper plans and logical assessments prior to taking action. With these energies, it is favorable to organize, strategize, and implement patience with all necessary tasks.
Saturday (day of Saturn) 10/21/17:
Mercury in semi-sextile to Venus create communicative harmony in relationships, love, and transactions. Our communication style is tactful (despite its often brusque nature while Mercury is in Scorpio), and our topics of interest may concern the arts, music, romance, and all pleasurable endeavors. Mars is approaching Libra: our warrior energy will be using more diplomacy and intellectual rigor in order to assert itself.
Article written for Bombshell by Blue, provided by saturnandthesun.com